I had a Zoom call with a client last week. I recorded the call. Our client was frustrated because they'd spent a lot of time getting their processes written up but they weren't implemented, they weren't being used.
I asked if I could record the call because it is an issue experienced by at least 90% or more of the businesses we speak with who are trying to get their business Process Dependent.
How do you implement?
How do you enroll your team in this new way?
How do you get your people to follow your processes?
How do you keep those processes current?
---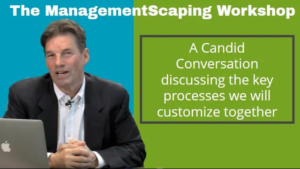 ---
The video above is the recording of that call – my candid conversation with our client about why most businesses fail to implement their S.O.P.'s and what to do about it. (It's a one-sided conversation – I only recorded my part of the conversation to keep the client anonymous.)
I'm speaking about process implementation using the metaphor of a 3 legged stool;
You need great people – your TEAM
You need documented instructions for training and management – your PROCESSES
And the 3rd leg is CULTURE – The way you do it there…
If you don't have all 3 legs, the stool, your business, can't stand alone, independent of you and your key people.
There are 6 key processes I list in the call;
Recruiting and Hiring
On-Boarding and Orientation
Training
Evaluations
Manager Meetings
Task Delegation
I hope you enjoy this rather candid and scrappy conversation and the link will also give you some information on a Process Implementation Workshop that we're running in October.
If you're having challenges getting your processes implemented, you might want to check it out.
Please, leave me a comment below. I respond to every comment we receive and I appreciate hearing your thoughts.
– Michael Mills