The Value of the Collections Process
Studies show that if you allow an unpaid invoice to lapse more than 90 days, your ability to collect on that outstanding amount drops to 74 cents on the dollar.

If you think that sounds like bad news, it gets even worse when you put that in the perspective of your overall business' operations.

Let's say, for example, that your net margin is 10%. In other words, for every dollar of revenue generated, you have 10 cents left of pre-tax profit after you've paid all of your vendors, all of your employees, your sales commissions and after all of your expenses like rent, heating, telephone have been paid.

Let's also say that your accounts receivable aging report tells you that you have $50,000 of invoices that are 90 days old or older. Your company will need to generate $130,000 in sales to recoup the loss of the funds that will be uncollected because you were too busy to ask for them. And that's assuming you don't let the receivables get any older. The longer it takes, the worse it gets.

Now that I've got your attention, let's talk about a Collections System. First of all you've got to get the invoices out. We're not going to focus on that in this discussion. I'm going to assume you have a system in place that accurately collects the required information for each invoice and that the invoices are being generated and mailed as soon as expected.
Our focus, the system that follows, is what happens after the invoice is mailed and it's purpose is to be sure money is flowing to your company with a minimal amount of effort and interruption – that your clients are paying quickly and happily for the services you've performed.
If you're not collecting your money, you're bankrolling your clients. On the other hand, if you implement this system, you'll increase your profits without having to increase your sales.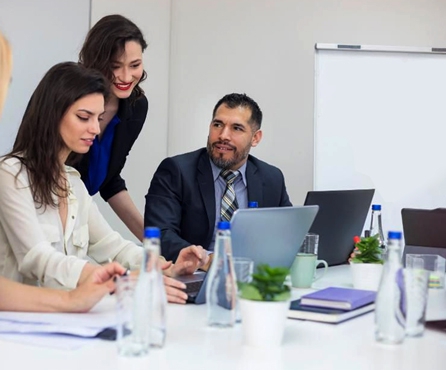 The Collections System
Step 1 – Follow up the Invoice:
In many cases, a quick call following up a mailed invoice to be sure your client received your product/service and to confirm that they are satisfied is a valuable step. Track the response and if practical, send a "Thank-You" email which will include your terms of payment once they receive their invoice.

In other words, if your client thanks you for the call and reports that they received whatever it was they purchased from you and everything is great, make a note of it in your client's file. This is important. If later on in the process, they fail to pay and complain that something wasn't delivered as expected, it's helps to be able to come back to the notes of this call as a record of what they originally reported.

A Note: This step may or may not be an efficient one in your Collections Process. It will depend on the average amount of each of your invoices as well as the number of invoices you produce monthly. If your company produces hundred's of invoices weekly for small amounts, the process of follow up calls would be overwhelming and inefficient.
Step 2 – Aging Report Production and Review:
The A/R Aging Report should be printed at a minimum once every month. Review the report and list all outstanding invoices that have lapsed beyond your terms.
Step 3 – Make the Call:
Personally contact each account and ask if there is a problem. This needs to be a respectable call. Too many book keepers immediately assume the worst and "attack the dead-beat client". These are your clients! It's possible they never received your invoice. Maybe they've experienced a problem with your product or service. Maybe they're having some short term cash flow problems. That's what this call is about. Hold the context that they were planning to pay your invoice on time and there is a simple reason why it was not paid. You're calling to find out if there is a reason, if they have already sent the check, or to remind them that the invoice is now due and to determine their payment process.

A couple of notes about this call:
Script the callHold a context of respectabilityHave someone other than you, the owner, make the first attempts at collection
Step 4 – Follow up the Client's Payment Plan:
During the call, the client will explain why they have not yet paid and they will work out a payment plan with you. They'll explain when and how they are planning to pay. Document their payment plan. You may even decide to follow up with a quick email confirming what you agreed to. If payment doesn't arrive on the day it was scheduled to arrive, make another contact. The second contact might be an email and the email might say you will wait a few days to hear from them or to see if payment does arrive and, if it doesn't you'll check back with them.
Step 5 – The Squeaky Wheel Rule:
If payment doesn't arrive, call again just exactly as you had said you would. This call can be similar to the one above; hold your client in high regard. Maybe they're really busy and just haven't been able to get to it. You might even ask if you can send a driver over to pick up the check.
Or, if you take credit cards, ask if it would be easier for them to put it on a credit card.

A couple of notes about this call:Same as above andBe creative about getting the invoice paidMake the calls early in the week and be sure to speak with the person who is accountable for making the paymentBe firm. Be clear. Be respectful.
Step 6 – Follow up Again:
Same as above with one exception. After this call, send a statement with a "Collections Letter" (see sample) which should include your understanding of the payment plan – the one discussed in the second call.

Determine Your Terms and Standards:
At some point, if the client fails to follow through on their commitments, your system needs to "ramp up". And you need to know your limits. Here are some questions to answer:

Define your boundaries:
How many times will you allow your client to fail on their follow through?Will you send an outstanding bill to a collections company and when?

At one point do you, the business owner step in? We had a client, for example, who only followed up with a specific outstanding payment when the invoice was more than 60 days. It was the goal of his book keeper to let nothing get to 90 days and she was rewarded for making this goal each quarter.

We have an existing Collections Process already documented and available to all subscribers of The TouchStone Business System.

If you are not an existing subscriber, then you can register for a free trial of the software, download the process from the Process Library, a library of pre-written processes, and implement it immediately.